A quick glance at Molly Molloy's work and home tells you almost everything you need to know about her long-standing relationship with colour.
Product 265, Bellhop
Photography by Ambra Crociani
Interview by Alice Morby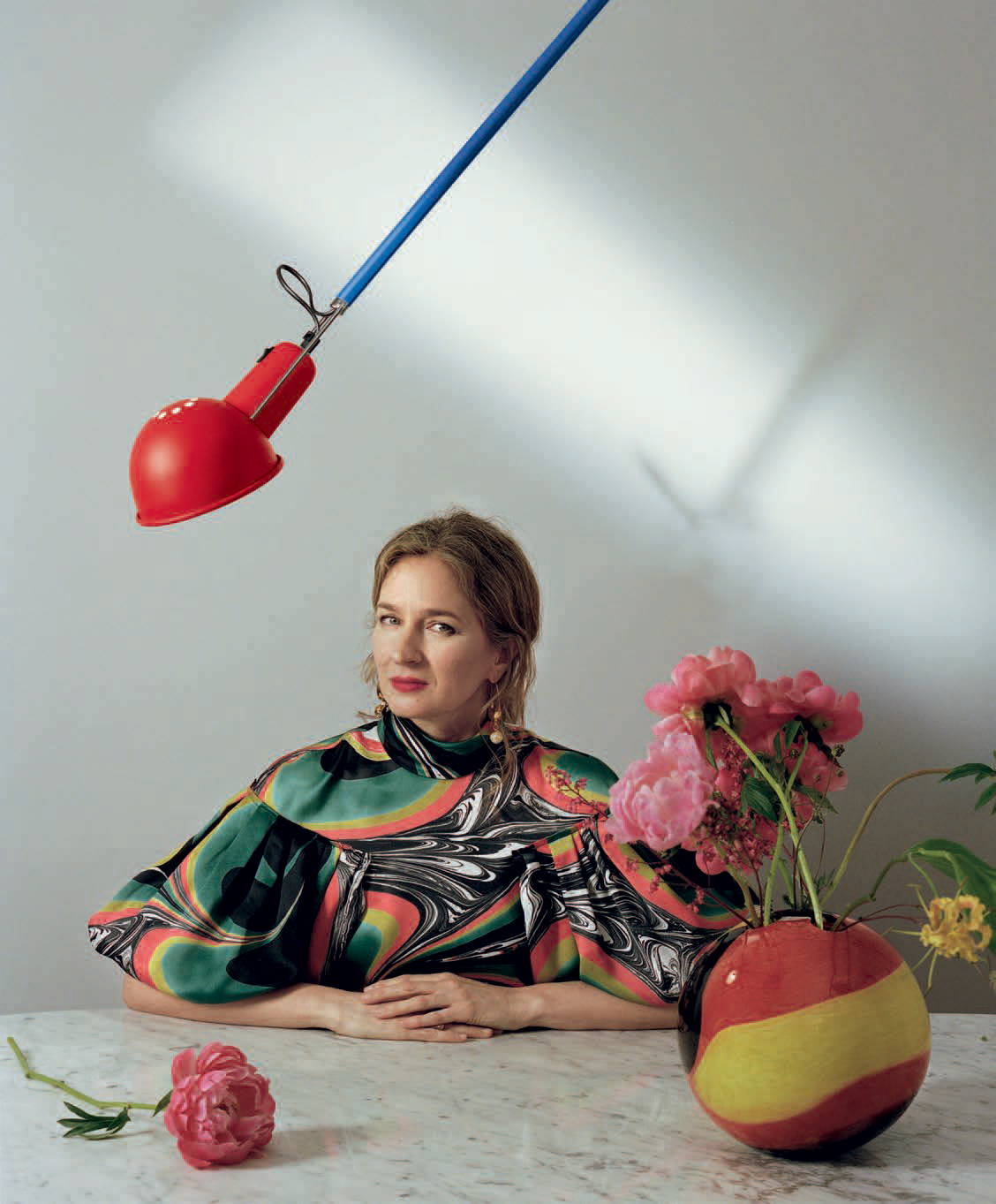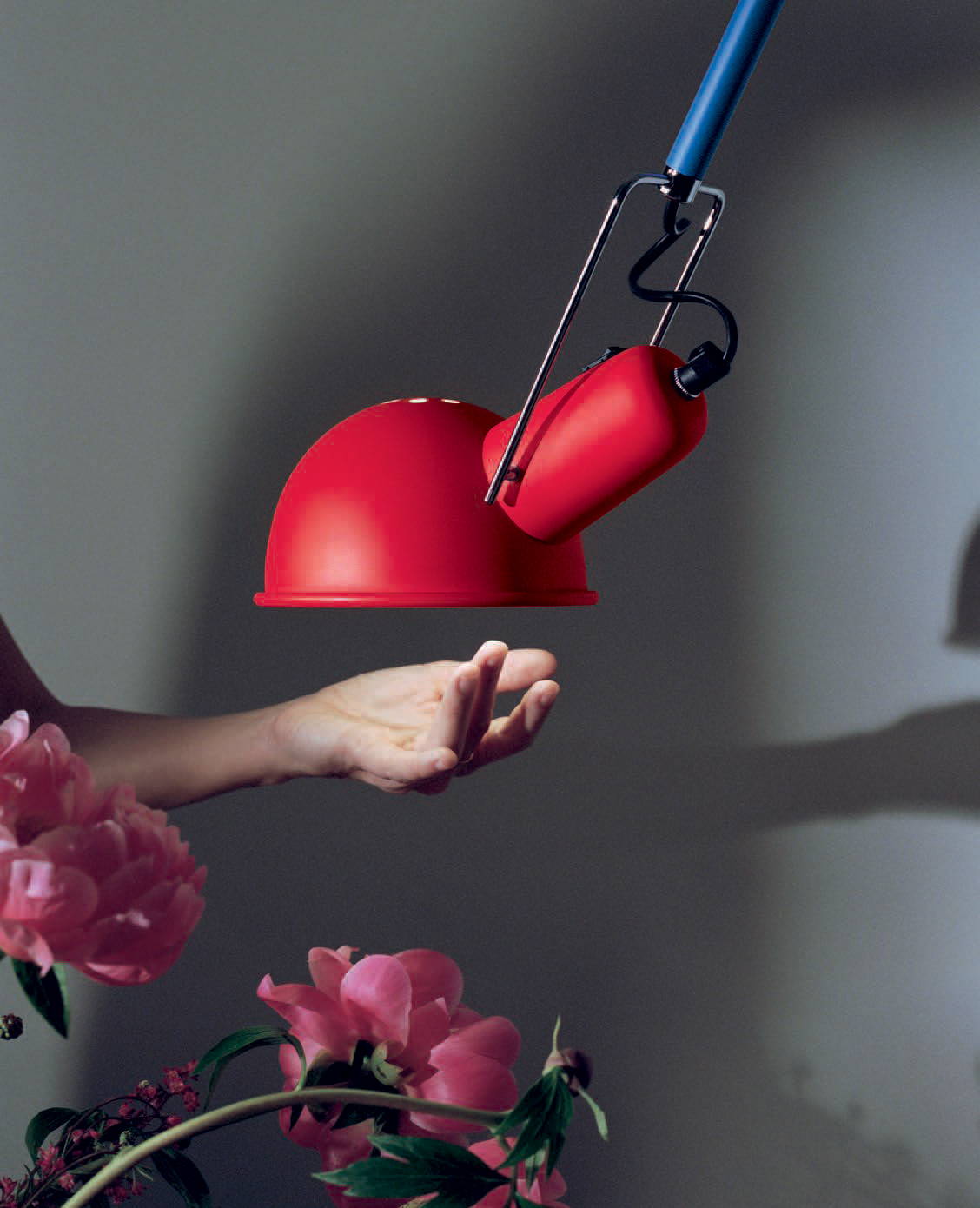 Molly Molloy in her Milanese apartment with Paolo Rizzatto's 265 Chromatica.
In 2018, together with former Vogue fashion director Lucinda Chambers, the Milan-based designer (and occasional painter) founded forward-thinking brand Colville. Named after the London street where David Hockney once lived, they describe Colville as being the 'antithesis of fast fashion', and champion longevity and integrity through its collections. With collaboration at its core, the artisans whom Colville works with are spread across the globe, and include women's social projects in the likes of Bangladesh, Morocco and Colombia to create accessories and pieces for the home.
From Colville's Milan HQ, Molloy takes us on her career journey to date, shares secrets of her collaborative success, talks about her life in objects, and reflects on the childhood moments in which creativity and colour have had a profound impact.
ALICE MORBY From your work and your home, it's obvious that you're interested in all aspects of design. When did you decide to make it your professional career?
MOLLY MOLLOY I studied the three-year fashion course at Central Saint Martin's back in 1993, and after I graduated, I started to work with fashion designer Bella Freud, then went onto Betty Jackson, and then finally went on to work at Marni in 2005, which is when I moved to Italy. I've always been interested in all aspects of art and design. I couldn't decide between studying sculpture or fashion design. But with sculpture, I was worried about how I'd be able to use colour. But it was actually my old art teacher from school that helped me decide to choose fashion.
ALICE MORBY You founded Colville in 2017, alongside Lucinda Chambers. Each of you had had incredible careers to date, but what made you decide to launch your own brand?
MOLLY MOLLOY I knew I wanted to stay in Milan, but I didn't really know where I could fit in. I'm also not the kind of designer who literally wants to sit around and design all day – for me, it's more about everything that goes with it. So I guess we began by thinking about what we wanted to buy, and what we wanted to wear, and with that, our hope is that we're addressing a lot of different women too.
Natalie Kingham, the buying director at Matches, took a huge leap of faith and bought collections from the initial designs we had. They launched us and sponsored us for the first two seasons, so we were exclusive to them. When we founded the business, we knew two things: that we wanted Colville to grow slowly and sustainably, and we wanted it to be more of a collective. Four years later, it's kind of amazing to see how it's grown, although we're still a tiny team of four people here
in Milan.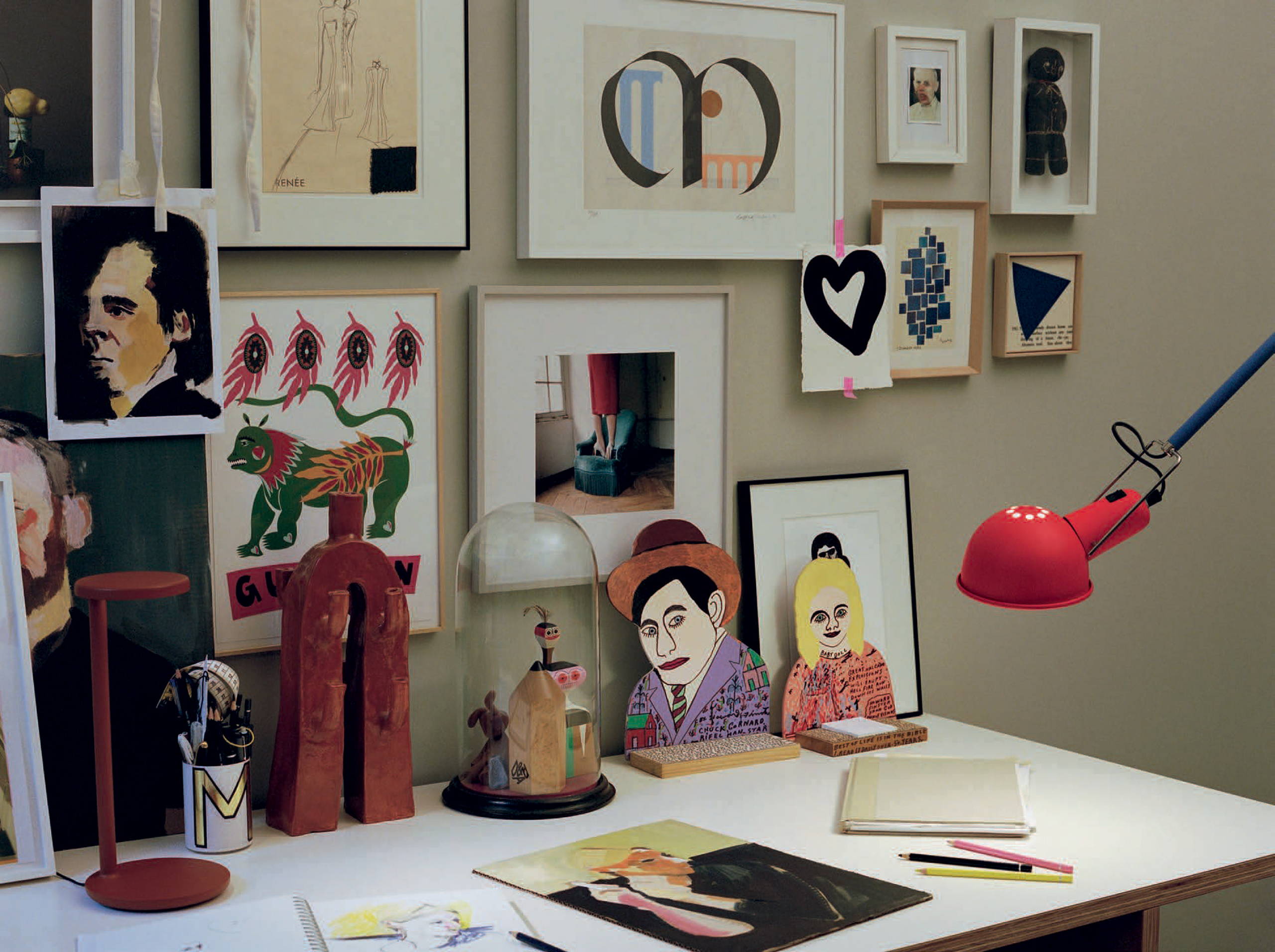 Molly Molloy's desk with Oblique by Vincent Van Duysen in matt Rust and 265 Chromatica by Paolo Rizzatto.
ALICE MORBY Collaboration almost seems to form the backbone of Colville. How do you form those relationships and why is it important for you to work with other designers?
MOLLY MOLLOY We want to shine a light on the people that we are working with. At the end of the day, every single design company is a sum of parts, and it's everybody there that makes the company what it is – not just one person. In terms of how the collaborations have come about, they really have all sort of just happened. For example, with the Colombian bags that we sell, I'd met a woman in Mexico on the beach, who was Colombian and was selling bags with her girlfriend. I bought six from her for Christmas presents for my friends, and we ended up staying in touch until she started helping us to source the bags from the artisans for Colville's collection.
ALICE MORBY You pull so many styles and references together, from traditional crafts to graphic silk prints. How do you make it all work and fit to the Colville identity?
MOLLY MOLLOY I think because the clothes are so refined, and the fabrics we use are researched and sophisticated, and then the pieces by the artists have this rawness to them, they just work in the end. I think if the whole collection was artisanal, it wouldn't work. But the fact that there are those contrasts brings it all together.
There is also a lot of integrity in what we do. The crafts seen in our collections tell a story of the people we work with, and in a lot of cases, these crafts are dying because the younger generation don't want to take them on. So to play a part in keeping them alive is really important. This has of course been amplified over the course of the pandemic, and when tourism has been non-existent, the pieces we commissioned from the weavers that we work with has financially kept them going.
---
ALICE MORBY What is it like being a female entrepreneur based in Milan, and how does it enhance Colville by having half of its founders in Milan?
MOLLY MOLLOY I love Milan. When I came from London in 2005, it kind of felt like a village to me. I love that it takes a long time to discover the city, because lots of things are hidden. With Colville, having the level of skill and craft that is here is incredible, from the pattern cutters to the machinists and the fabric mills – it's all on your doorstep. What's really beautiful, is that Lucinda then comes from London, bringing with her all that London freshness and all the different things she's seen there. It's a great combination.
ALICE MORBY You have spoken about being fascinated by design of all sorts, so I'm interested to know how that translates to the space in which you live and the things that you live around?
MOLLY MOLLOY I think your surrounding environment is really important, and I find it hard for things not to be beautiful, or to have meaning or stories. I think your objects make you feel secure in a way, and I have a total collection of stuff to surround me – to the point where my flat is getting close to exploding! I buy a lot of vintage pieces, as I love the fact that they're not 100 percent perfect. For years, I wanted to get hold of the Foglio lamp by Tobia Scarpa, and actually ended up finding it in a vintage shop near my home here in Milan. It's like a mini sculpture, and there's something really quite feminine about it, which I love.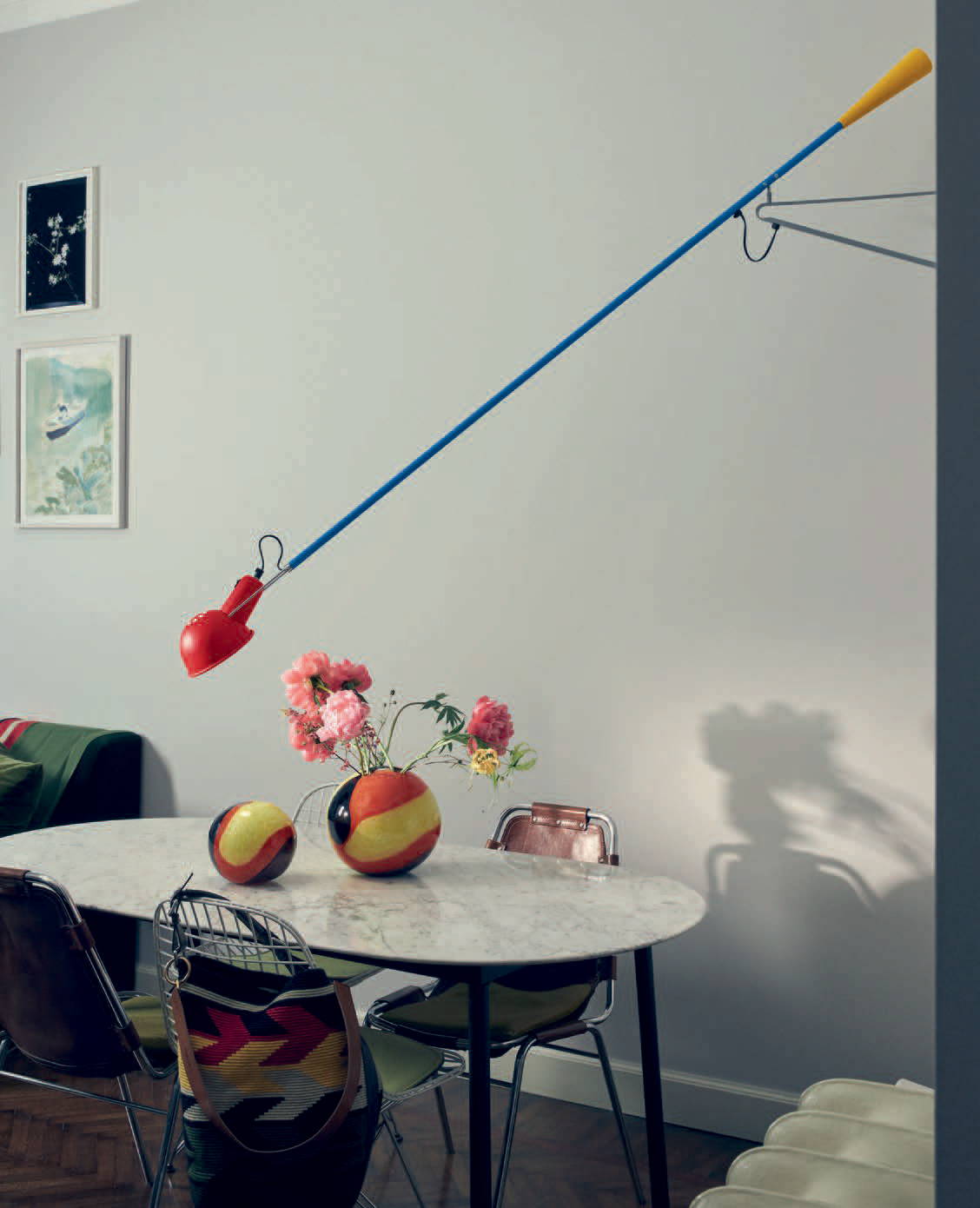 265 Chromatica by Paolo Rizzatto over the dining table.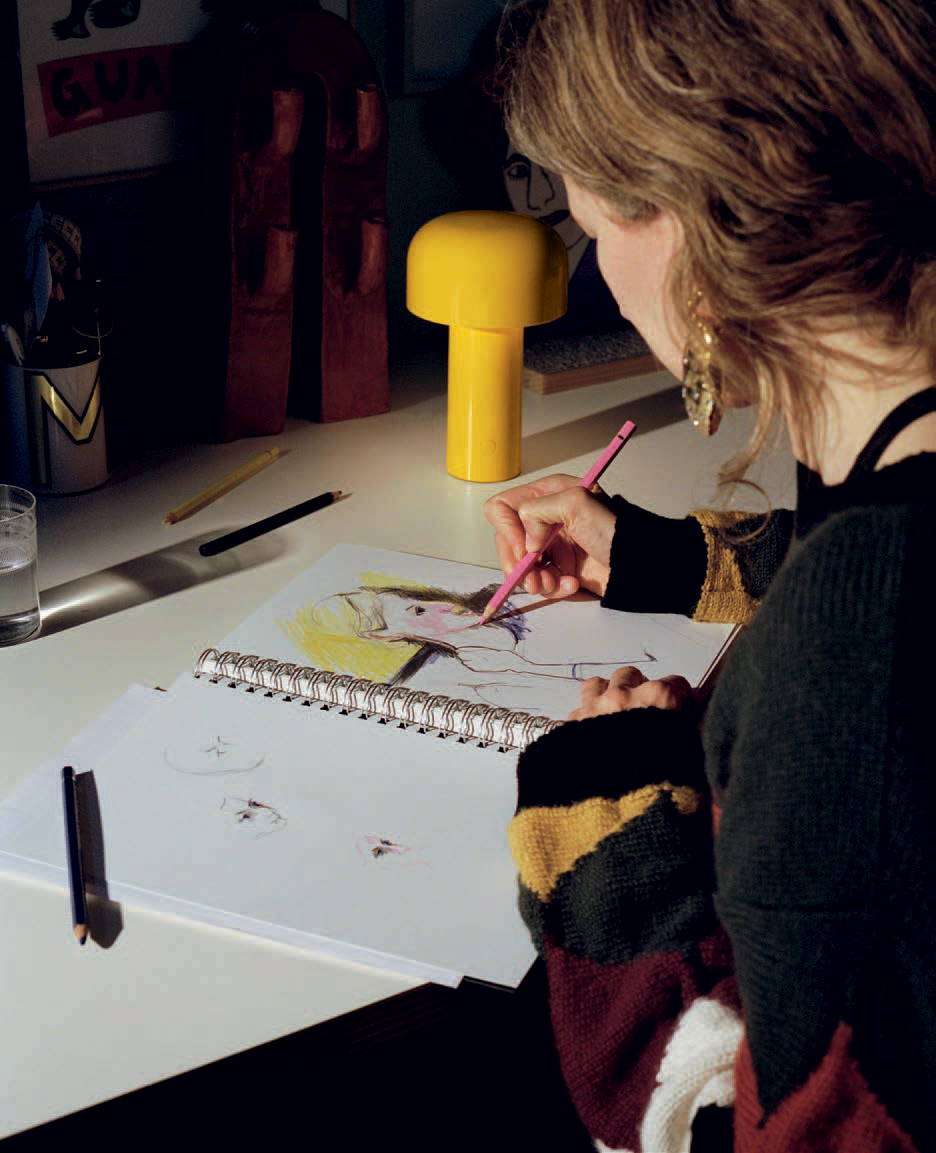 Molly Molloy drawing, with the Bellhop by Barber Osgerby in Yellow.
ALICE MORBY Is there a thread that can be drawn through the objects you live with at home?
MOLLY MOLLOY I think the fact that there's stories behind everything, but I also buy design pieces simply because I really admire the designer – so the story can come from the history of that particular object itself, or the way in which it was created.
In a way, the 265 lamp fulfills both of those criteria.
When Paolo Rizatto originally designed the lamp in the 70s, he saw it as being bold and colourful, but it was never released in anything other than black and white. So now, for it to be reissued in these bolder hues really is extraordinary, and fulfils what he originally wanted.
ALICE MORBY Colour is obviously incredibly important to you. Why do you think that is?
MOLLY MOLLOY I think I realised how important colour was to me when I was really young. My grandparents brought a lot of colour into my life, as my grandmother was very creative. I also had an aunt who was really into textiles, and I vividly remember she had this massive tapestry which was orange and pink and really tufty and had green cushions against a pink sofa, so there was lots of colour going on.
But I think our interest in colour is bigger than us in a way, as in your eye just knows the combinations that please you or that suit you. For example, most of the things in my home are green, and I don't know why I'm drawn to that colour, but it's obvious I am. I think we absorb what stimulates us.
At work, I absolutely love doing colour palettes. But at the same time, it makes me quite nervous, because you develop them from random pieces of fabric, and maybe the inspiration also comes from an artwork or a photo, then you have to put them all together and see if they work. It's exciting when you see them all come together.
ALICE MORBY Speaking of your use of colour, can you tell me a bit about your painting?
MOLLY MOLLOY One thing that I also do for myself is paint, and I have this other really early memory of being at school and seeing the colours of paint on paper. I was probably only four or five years old and how I made that I just thought it was incredible. It's the one way that I switch off and relax. I like to paint the faces of people, and most of the time, if I paint somebody, I'll give it to them.