Vincent Van Duysen is a Belgian architect and designer based in Antwerp. His work, known for its pared down simplicity, ranges from residential interiors and hospitality projects to furniture and lighting designs. Van Duysen snapped the photos this spring, while quarantined at home with his three dogs, Gaston, Pablo, and Loulou.
Designer Vincent Van Duysen
Place Antwerp
Photography Vincent Van Duysen
From Flos Stories Issue 1
Our existence has come to a screeching halt. Recent global events represent a deafening wake-up call. Our lives, once characterized by interaction with others, are now spent in confinement, a kind of self-togetherness. But restraint is not always detrimental. There's a silver lining. This is the time to reconnect with our inner selves, a time for self-reckoning, a zenith of awareness.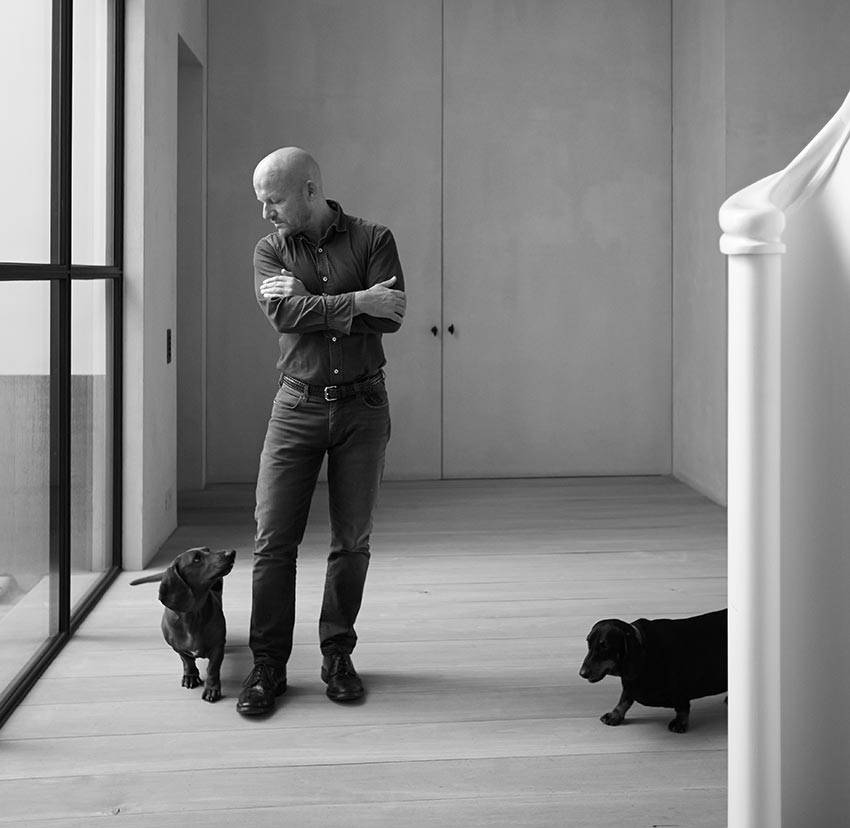 "I don't believe we'll be merrily returning to life as it was. "

This newfound path to introspection starts with recognizing and admitting that our previous modus vivendi—our working rituals; our haphazard racing across the planet—is no longer sustainable. When the planet goes back to normal, we earth dwellers will have to ponder our new normal.
I don't believe we'll be merrily returning to life as it was. Take the people who whizz across the globe, who systematically search for happiness elsewhere, hasty and restless. Will they continue doing so? Or will many of them lead slower and more conscious lives? Will they stay closer to home and, for instance, attach much more value to their significant others, their own environment, their own house? I think it will be the latter.

I am a fairly restless person. But, despite the speed at which we coexist today, I crave visual calm and cathartic purification. These days, I find that calm in nature, which features in nearly all of my designs. In the heart of Antwerp, I barely feel like I'm living in a city. I have an inner courtyard, a magnificent garden, a body of water—all the essential elements of nature. As a result, I've become a sort of hermit in my own house. I seldom go outside, except for a brisk walk with the dogs.
At home with myself, I try to be a sponge. Everything has the potential to inspire me—a documentary on YouTube, an image from someone I follow on Instagram, a book, a work of art. It all goes through the filter of my empathy and my imagination.

It's how I create. But truthfully, I'm most creative when surrounded by people, so interaction with my team is essential. Even now that we cannot see each other in person—or only rarely—we still tend to have daily meetings. Like most of the world, we've found new ways to collaborate.
I
n my case, meditation is the ultimate form of introspection, and my home is my temple. It's an almost sacred place where I balance mind and body, channeling creative energy while shooing away negativity. That's when time stands still. My thoughts flow. I let myself be guided. At some point, both my body and mind enter a state of deep tranquillity.
Right now, home can be the antidote to the surreal status quo. It's where we surround ourselves with inspiration from art, from beauty, from other individuals. It's where we safely perform the daily rituals that will lead us beyond the present, into a new
reality together.